Rural Parliament remains a European project…
Promoted as a European model and project three years ago, the National Rural Parliament in Albania remains a project focusing on both good governance and inclusive and participatory democracy. The work from the first Parliament in September 2017 to these days features constant and sustainable efforts to create and consolidate an identity that is both representative and legitimate of the Albanian Network for Rural Development to help advocate for evidence- based policymaking and decision-making as well as the interests and priorities of rural communities.
ANRD is progressively taking its place as a representative of the interests of the private sector, civil society, and local government to address the country's challenges in sustainable rural development. Its public attitude to issues of sector governance have been very important in this respect. Over the past three years, ANRD is present across the entire country representing some 28 member organizations in its activity and consulting, in most cases, up to 400 representatives of both the public and private sectors.
The Albanian Network for Rural Development's significance is increasingly valued taking into account that it is holding this national forum ensuring inclusiveness under pandemic conditions as well. It is the active membership of ANRD that guarantees the success of this Parliament, bringing together online over 500 participants from all municipalities of the country, central government institutions, CSOs, representatives of international institutions, members of the Balkan Network and several European Rural Development Networks.
In five years of running its activities, ANRD has established decent collaborative relationships with the Ministry of Agriculture and Rural Development, the Agricultural and Rural Development Agency (ARDA), the Managing Authority, and other stakeholders at both central and local levels. And yet, regardless of its persistent efforts for an active role of the Parliament of Albania, ANRD has not achieved any kind of cooperation with the Parliamentary Committee of Production Activities, Trade and Environment. Additional efforts in these directions will become key objectives of our work in the future.

What differentiates the Albanian Network for Rural Development from other organizations is the identity it has created in the system of governance of the rural sector through hard work to improve the capacity of the sector in Albania and to establish and consolidate the instruments of public consultation on issues of rural development, monitoring, and drafting policy documents on better governance of agricultural and rural development, on awareness and advocacy. An umbrella of civil society organizations, ANRD stands firm for the
promotion of the LEADER approach across the country.
ANRD can claim merit in two complementary initiatives, such as the development of two consecutive editions of the "Pro Rural Woman" event in the municipalities of Tirana and Roskovec in an effort to make an annual
tradition out of it. In addition, inspiring is the construction of the Rural Youth Hub to run on a specific and long-term work program aiming to bring together young men and women engaged in these directions. Work in this track is expected to advance further in the future.
ANRD has always received genuine support from the leaders of the Agricultural University of Tirana and its academic staff in all aspects of its work, including activities of the Rural Parliament. We very much hope in the perspective of this cooperation in the long run.
Also, special thanks go to the leaders of Epoka University, who supported the realization of the Parliament in an unusual format by making available the digital infrastructure in its premises.
Last but not least, these achievements would not have been possible without the support of the European Union, which has been the main funder of ANRD in its path of development and consolidation. We also thank the
German Cooperation that, through GIZ assistance, gave its contribution in this important national event for the sector.
Thank you for your support and welcome to the second National Rural Parliament!


Sotiraq Hroni
Chairman of the Board,
The Albanian Network for Rural Development
PARLAMENTI I 3 RURAL SHQIPTAR 2023

 
"JETA BURON NGA FSHATI"
11-13 Tetor 2023
Parlamenti Rural i Shqipërisë (ARP) është një nismë e Rrjetit Shqiptar për Zhvillimin Rural (ANRD) dhe përfaqëson një platformë avokimi, ngritjeje kapacitetesh dhe rrjetëzimi kushtuar zhvillimit rural. Në vijim të Kuvendit Rural të Shqipërisë (Shtator 2017) dhe në përgjigje të sfidave aktuale të zhvillimit bujqësor dhe rural në Shqipëri, ANRD në bashkëpunim me Universitetin Bujqësor të Tiranës (ubT)  organizuan Parlamentin e tretë Rural Shqiptar më 11-13 Tetor  2023.
OPENING || BOOKLET || DECLARATION || GALLERY
Please find below the video recordings for each of the days of the Second Albanian Rural Parliament, together with the Press Conference. Click on the name of each category and then press the PLAY button in the video to listen to the respective recording!
| Press Conference | Day 1  – 4th of March | Day 2 – 5th of March |
INFORMACION I PËRGJITHSHËM DHE LOGJISTIK PËR PARLAMENTIN E TRETË RURAL SHQIPTAR
PARLAMENTI i 3-të RURAL SHQIPTAR – një platformë kombëtare kushtuar ngritjes së kapaciteteve, rrjetëzimit dhe advokacisë për zhvillim të qëndrueshëm rural – zhvillohet në ambientet e Universitetit Bujqësor të Tiranës, nga data 11 deri më 13 tetor 2023. Parlamenti i 3-të Rural i Shqipërisë përfaqëson një përpjekje bashkëpunimi midis Rrjetit Shqiptar për Zhvillim Rural (ANRD) dhe 34 OSHC-ve të veta anëtare, në partneritet me Universitetin Bujqësor të Tiranës (UBT).
Parlamenti kombëtar rural përfaqëson përpjekjen më të qëndrueshme të advokacisë nga poshtë-lart, duke krijuar hapësirë për dialog dhe bashkëpunim, shkëmbim të këndvështrimeve rreth çështjeve të rëndësishme dhe aktuale të zhvillimit rural dhe bujqësor, si dhe për të ofruar rekomandime për gjallërimin e jetës dhe ekonomisë rurale. Platforma e këtij edicioni të tretë do të ofrojë mënyra novatore dhe qasje të reja për të arritur një konsensus të gjerë mbi prioritetet e zhvillimit rural në nivel kombëtar. Platforma synon të forcojë zërin e sektorit civil dhe privat në dobi të zhvillimit të qëndrueshëm rural.
Parlamenti i tretë vjen me një platformë të plotësuar, duke krijuar për herë të parë mundësi për të rinjtë nga zonat rurale, fermerët e rinj dhe sipërmarrësit të mblidhen në Asamblenë e tyre Rinore: "me të rinjtë, për të rinjtë, nga vetë të rinjtë e Qendrës së Rinisë Rurale të ANRD-së". Gjithashtu, Edicioni i 5-të i Pro-Grave rurale 2023 do të organizohet në kuadër të Parlamentit Rural për të fuqizuar advokacinë për një sektor bujqësor dhe rural, për komunitetete dhe një shoqëri me mundësi të barabarta për të gjithë.
Tema e Parlamentit të 3-të Rural Shqiptar – JETA BURON NGA FSHATI – përgatit terrenin për dialog dhe bashkëpunim konkret, për të analizuar realitetin dhe për t'u njohur më mirë me nevojat dhe problemet, për të reflektuar mbi vizionin dhe prioritetet si veprime kolektive me qëllimin final për të fuqizuar dhe përmirësuar cilësinë e jetës në komunitetet rurale në të gjithë vendin.
"Jeta buron nga fshati" shërben si një thirrje e fuqishme për veprim drejt nxitjes së zhvillimit të qëndrueshëm rural. Kjo temë thekson të vërtetën e madhe se zhvillimi dhe përparimi i Shqipërisë vjen nga zonat e saj rurale. "Jeta buron nga fshati" thekson rëndësinë e mbështetjes së ekonomive rurale, investimit në infrastrukturë dhe arsim dhe krijimit të mundësive për të rinjtë brenda komuniteteve të tyre. Tema na nxit të rivlerësojmë rëndësinë e komuniteteve rurale dhe ekonomisë së tyre në kontekstin e sfidave aktuale, duke përfshirë ndryshimet klimatike, migirimin nga zonat rurale etj.
→ Për më shumë informacion kontaktoni: [email protected]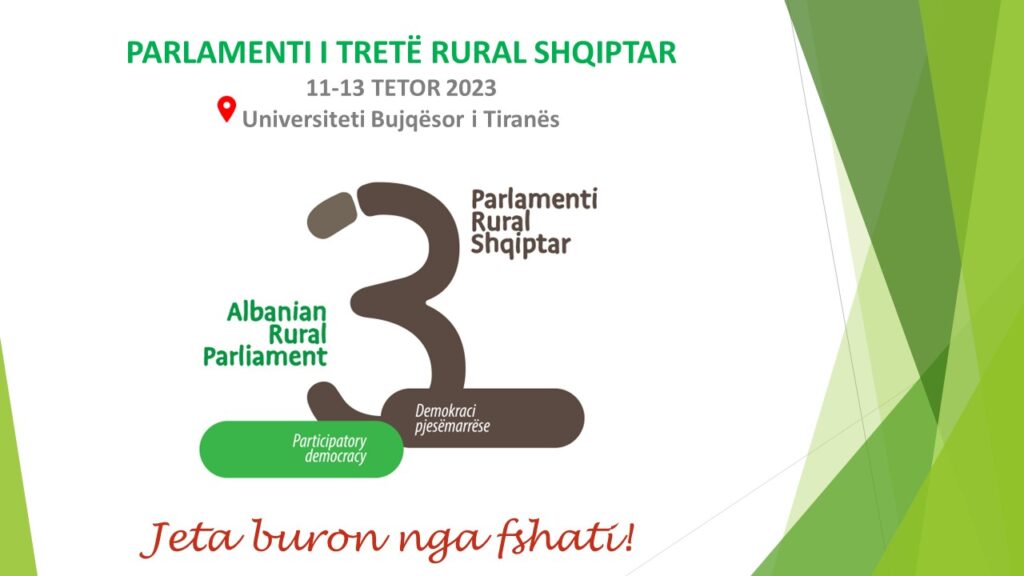 REGIONAL RURAL FORUMS
Within the 2nd Albanian Rural Parliament (March 3-5 2021), the Albanian Rural Development Network (ANRD) will organize four Regional Rural Forums during March-August. The four forums are organized successively in order to generate momentum for the second Albanian Rural Parliament on March 2021, which will conclude the stakeholders' advocacy efforts at all levels.
The four Regional Rural Forums aim to bring together representatives of public institutions, civil society, farmers and productive associations, women's and rural youth groups, active citizens, and others interested in influencing the national rural agenda. These forums will help different actors to reflect the needs, priorities, and interests of local actors and rural communities by country regions.
Calendar and other forum details:
1. The Drini Regional Rural Forum (Shkodra, Lezha, Kukës) was organized in the city of Lezha (at Junik premises) on Friday, 6 March 2020.
2. The Arbër Regional Rural Forum (Tirana, Durrës, Elbasan) was held online (ZOOM meeting) on Wednesday & Thursday, June 17 and 18, 2020.
3. Vjosa Regional Rural Forum (Vlora, Fier, Gjirokastra) was held online (ZOOM meeting) on Tuesday, June 30, 2020.
4. Egnatia Regional Rural Forum (Korça, Elbasan, Berat) was held online (ZOOM meeting) on Tuesday, July 21, 2020.