The Managing Authority, Ministry of Agriculture and Rural Development, organized the Consultative Meeting on the second IPARD package of measures on 20 February 2020 at the Europa House premises.
In a high turnout of representatives of the Ministry and staff of Regional Extension Agencies, ARDA, civil society, agricultural and rural development experts and specialists, were presented, discussed, and consulted on the three new draft measures included in the IPARD Program.
The three new measures are:
Measure 4: Agri-environment, climate, and organic farming
Measure 5: Implementation of the Local development strategies – LEADER Approach
Measure 10: Advisory Services
The presentations of the three draft measures generated the interest of the participants who provided ideas and suggestions on the draft measures to fit better the real needs and context of our country.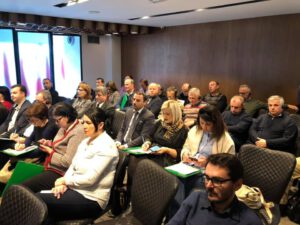 The meeting was attended by representatives of the Albanian Rural Development Network (ANRD) as well as other member organizations of ANDR. It was of interest the measure of Leader Approach for which ANRD has been consulted continuously in drafting it. Moreover, the Leader approach represents one of the key areas of ANRD work, including capacity building of various stakeholders as well as advocacy efforts. In the context of the ANRD's efforts to implement Leader Approaches in rural communities in Albania, it is also worth noting the certification of the first five trainers in Albania on the Leader approach. They are equipped with adequate knowledge and skills to implement the Leader approach in the spirit that this philosophy requires.
While the meeting provided an excellent opportunity to familiarize with the measures and provide recommendations from various stakeholders, the ANRD also expresses concern over the delay in providing technical assistance to make successful the implementation of the measures. While there is leadership at the local level to initiate the process of setting up a Local Action Group (LAG), currently there is a lack of technical support to guide, facilitate and support the process of territorial animation that is so indispensable in the creation of a Local Action Group.